Pub News - Worcestershire
Pubs are listed alphabetically within each town
Fleece Inn, Bretforton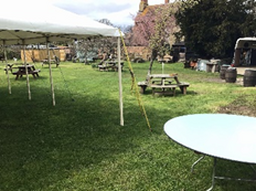 Update 01/10/2021 – Continues to offer a good selection of up to six real ales with a Purity beer usually on offer along with Uley Pig's Ear. Voted Best Beer Garden in the Cotswolds 2020! We also see the return of the Apple and Ale festival at the Fleece Inn, Bretforton which is their annual celebration of apples, cider and cider making. Opening times are from Friday 8th Oct, 05:00pm - Monday 11th Oct, 05:00pm. There will be live music on Saturday and Morris dancing on Sunday. https://thefleeceinn.co.uk/events/apple-ale-festival/
Broadway Hotel, Broadway
Update 01/10/2021 – At the time of our last visit the beers on offer were - Hooky Bitter, Hooky Gold, Goff's Jouster and Goff's Lancelot.
Cider Mill, Evesham
Update 01/10/2021 – The tenancy is currently being advertised for this pub.
Outside Inn, Evesham
Update 01/10/2021 – remains closed and the majority of signs have been removed from the outside of the pub. Some building alteration work seems to be in evidence and it now appears as being sold on a business for sale website. Our latest information indicates that it is due to open as a burger bar owned by "Stir Ups". https://www.eveshamjournal.co.uk/news/19136474.new-burger-restaurant-replace-outside-inn-pub-evesham/
Crown and Trumpet, Broadway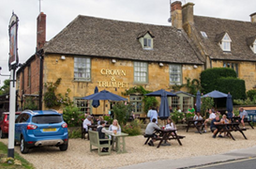 Update 01/10/2021 – Three beers plus one extra at weekends – North Cotswolds Shagweaver, Green Man IPA or Jumping Jack and Timothy Taylor Landlord.
BCM, Evesham
Update 01/10/2021 – The previous connection to Birmingham Brewery beers is no longer evident and the very nice "house" beer is now brewed by Green Duck from Stourbridge. On social media they are also promoting their "sister pub" at the Jenny Ring craft centre near Droitwich and are selling a number of different cans of craft beer. Opening hours are limited so check first on social media.
Red Lion, Evesham
Update 01/10/2021 – Is offering a range of Canon Royalle / White Rabbit beers from their brewery in Honeybourne. Opening hours are currently Thursday to Sunday and amongst their recent offering on the bar was the Old Ale and Bertram.
Royal Oak, Evesham
Update 01/10/2021 – Is believed to have changed hands (see Bridge at Offenham) and re-opened on the 7th July. A recent visit found Purity Mad Goose on offer. They have also upgraded their courtyard area.
Coach and Horses, Harvington
Update 01/10/2021 – The pub has now been closed for the past couple of weeks as the latest Landlord, Pierre, moved out. We are trying to find out from the Pubco (Star Heineken) regarding future plans for this once Worcestershire CAMRA pub of the Year. It is currently listed as an Asset of Community Value (ACV).
Thatch Tavern, Honeybourne
Update 01/10/2021 – Has been registered again as an Asset of Community Value in order to maintain the status it first achieved five years ago. Whilst still being a Heineken owned property the lease was taken on by "The Honeybourne Pub Company" about three days before lockdown in November last year. In the interim a great deal of internal improvements have been made. Since reopening the pub has been seen to be serving Abbot Ale, Wye Valley Butty Bach and HPA with a fourth pull for another ale. They are open early for coffee and cake and all day for everything else.
Bridge Inn and Ferry, Offenham
Update 01/10/2021 – Opened again on the 21st June by Alistair who used to run the Royal Oak in Evesham. There is a lovely refurbished outside drinking and eating area by the side of the river Avon and on social media they stated that they are hoping to have 3 or 4 different real ales on offer. A recent visit by one of our members found that the beers available on that occasion were Brains Reverend James and Ludlow Gold. Plans are also believed to be in progress to reinstate the ferry across to Twyfords (the Village) country park.
Ivy Inn, North Littleton
Update 01/10/2021 – A gastropub located in the heart of the picturesque village the Ivy Inn is now under new management as of October 2020, with the new management keen to breathe some life back into this magnificent village pub