Pub News - Warwickshire
Pubs are listed alphabetically within each town
Alcester
Holly Bush, Alcester
Update 27/07/2022 - Now run by Red and Sharon.
Update 29/11/2021 - We understand that the Holly Bush in Alcester is up for reletting by its owners Everards. All our best wishes go forward to Peter and Helen as they move to Cyprus for their retirement.
Update 01/10/2021 – Stands as the only Everards pub in the branch area and it was good to hear of their plans to hold a beer and cider festival on Oct 9th / 10th in support of ovarian cancer. It is currently planned to have up to eight real ales and the Alcester Court Leet along with the White Hart Morris men will both be making an appearance. https://www.facebook.com/hollybush37henleyst
Cross Keys, Alcester
Update 03/01/2022 – Our latest information is that the pub has been sold and will re-open again as a pub sometime in the future.
Update 28/11/2021 - At a recent branch meeting members informed the branch that the Cross Keys pub has now been sold but we are not aware as to who has bought it.
Lord Nelson, Alcester
Update 01/10/2021 – Although it has been closed for a while the pub is being advertised as being for sale on Daltons Business website.
Roebuck, Alcester
Update 03/01/2022 – We are pleased to report that the Roebuck is open Monday - Saturday : 12.00pm - 9.00pm and Sunday : 12.00pm - 8.00pm although we are not sure if this is under new ownership.
Update 01/10/2021 – Indicating that it first appeared for sale on the 20/09/19 the Roebuck in Alcester is still showing as being available on the RightBiz website.
Royal Oak, Alcester
Update 12/05/2022 – A fifth hand pump is now in situ at the Royal Oak.
Update 02/03/2022 – We have been advised that the Royal Oak intends to add a fourth hand pump, which will be very well received.
Update 03/01/2022 – Has been awarded the branch Pub of the Season. In awarding the Winter Pub of the Season to Ruth Mclaren, Licensee of the Royal Oak since February 2017, branch members have been clearly impressed with the quality of the beers on offer during recent visits. With three hand pulled beers on offer, chosen on a rotational basis from regional and national brewers, they were found to be of a consistently high quality. A presentation was made on behalf of the branch on 15 December 2021 by Rhys Williams, Apple contact for Shakespeare CAMRA, to Ruth, her Pub Manager Kerrie, and Adam the cellarman who does an excellent job in ensuring that the beers are always served at optimum quality.
Swan, Alcester
Update 28/11/2021 - At a recent branch meeting it was explained that the ground floor of this building is now set for commercial use.
Turks Head, Alcester
Update 02/08/2022 – Unfortunately, due to unforeseen circumstances beyond our control, the presentation scheduled for Wednesday 3rd August has been postponed. A revised date is to be arranged and will be communicated as soon as confirmed.
Update 10/07/2022 – Many congratulations to the Turks Head for achieving Warwickshire County Pub of the Year. This is a fantastic achievement with the pub having been selected from the list of branch pubs of the year across the whole of Warwickshire and voted for by CAMRA members representing all of these branches. A presentation will take place from 8pm on Wednesday 3rd August 2022.
Update 05/04/2022 – Congratulations to the Turks Head for being voted Shakespeare branch of CAMRA Pub of the Year 2022 for the Warwickshire branch area. See the Pub of the Year page for details of the presentation on Tuesday 12th April 2022.
Update 05/02/2022 – On Thursday 3rd February, Shakespeare branch of CAMRA were proud to present to Carl & Karen Buxton, the tenants of the Turks Head, Alcester, an award to commemorate their having celebrated 20 years (23.01.2002 – 22.01.22) of holding the tenancy of this fantastic public house situated in the centre of the town. Both came from business careers in London with no previous experience in the trade of publicans but have developed the Turks into one of the premier houses in Warwickshire serving a variety of cask ales, lager and ciders complimented by a great food menu. We at Shakespeare CAMRA strive to promote the ideals of real ale throughout our share of the counties of Warwickshire and Worcestershire and we were pleased to have joined with this happy couple's celebrations held the previous Thursday on the reduction of the Covid restrictions that have been affecting their business over the last 2 years. Well done Carl & Karen. Pictured in the bar of the Turks is branch Chairman Lloyd Evans handing a framed certificate to Carl & Karen Buxton.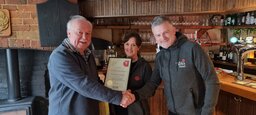 Alderminster
Bell, Alderminster
Update 01/10/2021 – After the successful opening of the Arrow Mill we are pleased to report that the Brunning and Price pub group have also purchased and re-furbished the Bell. Inside you will find a large bar crammed with local favourites and many different sized rooms to suit your mood along with views over the stone terrace and gardens beyond. They have 8 guest bedrooms and if you are planning a get together a Private Dining room with a balcony that will comfortably seat 14 for a gathering or meeting.
Ardens Grafton
Golden Cross, Ardens Grafton
Update 01/10/2021 – The leasehold of the Charles Wells operated pub is currently being advertised through Rightmove.
Brailes
George, Brailes (Lower)
Update 03/01/2022 – Open all day every day and there were 6 Hook Norton beers on handpump over the Christmas period.
Gate Inn, Brailes (Upper)
Update 06/03/2022 – We have received information today that the current owners are trying to close the pub permanently through a change of use application. Should you wish to object the link to the planning application can be found here - https://apps.stratford.gov.uk/eplanning/AppDetail.aspx?appkey=R7FVN8PMJYO00
Update 03/01/2022 – This current GBG listed pub remains closed and it is believed that Brailes Parish Council is in the process of applying for an ACV.
Update 01/11/2021 – A notice has appeared on their Facebook page explaining that Baggy has reluctantly decided to temporarily close the pub until further notice. It goes on to explain that the pub has not proved to be viable since reopening with the reasons being financial and some personal health issues which have come to the fore. We wish to offer Baggy all our best wishes and hope that he manages to open the Gate again in the not-too-distant future.
Cherington
Cherington Arms, Cherington
Update 08/03/2022 – We are pleased to report that the pub re-opened in March 2022 after a three month closure with new hosts Elin and Gilberto.
Update 03/01/2022 – Unfortunately, it seems to have closed its doors before Christmas and Hook Norton are looking for a new tenant - https://www.hooky.co.uk/our_pubs/the-cherington-arms-in-cherington/
Great Alne
Mother Huff Cap, Great Alne
Update 28/02/2022 – A visit from some of our members indicated that there were four hand-pumps working with two beers from Purity (whose brewery is only just up the road), one of which was a badged "house beer". See if you can decide which Purity beer this actually is?
Update 03/01/2022 – We are pleased to see that the Huff Cap re-opened on the 16th of December after what is believed to be a three-year period of closure. The following article appeared in the Redditch Advertiser - https://www.redditchadvertiser.co.uk/news/19792460.mother-huff-cap-near-alcester-reopens-community/
Update 01/11/2021 – We can report far more positive news about the Mother Huff Cap as their Facebook page now states that they are looking for staff and expect to reopen soon. The new owners also run the Why Not Inn in Astwood Bank and the Fives pub which is on the Bath Road in Cheltenham. A further phone call confirmed their intention to try and reopen the pub by the second or third week of December although there is still a lot of work to do both inside and out. Purity Ales are expected to be available, and the Manager will be Khan who now works in that position at the Why Not.
Update 01/10/2021 – Planning permission has been requested for the erection of 2 new dwellings, re-configuration of public house car park and beer garden including demolition of a modern garage. https://apps.stratford.gov.uk/eplanning/AppDetail.aspx?appkey=QOX7NTPMLVR00. It has been approved with conditions applied and we have received reports that building work has been started. Whilst we have no news about the future of the pub itself it is a grade 2 listed building.
Halford
Halford Bridge Inn, Halford
Update 03/01/2022 – Now sporting two new hand pumps on the bar where Purity Gold was one of the offerings on Christmas Eve. There is no food Mon-Tues whilst the chef has a break otherwise lunchtimes and evenings Wed-Sun. The bar opens at 4pm Mon-Tues and 12-11 Wed-Sun.
Update 28/11/2021 - We understand that this has now opened but unfortunately there is current no provision for hand pumps. However, we understand that casks / pins of North Cotswolds beers have appeared on stillage at the bar.
Update 01/10/2021 – It has been noted that the For Sale advertisements for the pub / hotel have been removed from various social media websites. It was seen to be up for sale at £550,00.00.
Hampton Lucy
Boar's Head, Hampton Lucy
Update 02/03/2022 – the Boar's Head is planning a beer festival from 3rd to 6th June, in celebration of the Queen's Platinum Jubilee.
Honeybourne
Thatch Tavern, Honeybourne
Update 08/07/2021 – recently gained Asset of Community Value status following on from the same thing five years ago. Since reopening the pub has been serving Abbot Ale, Wye Valley Butty Bach and HPA with a fourth pull for another ale.
Iron Cross
Queens Head, Iron Cross
Update 28/02/2022 – For lease signs have gone up on the front of the pub which is run in conjunction with the Rasoi Indian restaurant.
Kineton
Kineton Sports and Social Club, Kineton
Update 30/09/2021 – Kineton Sports and Social Club are also holding a festival in conjunction with a visit by the Sealed Knot over the weekend of 22-24th October (Battle of Edgehill 23rd October) www.kinetonssc.org.uk
Kings Coughton
Moat House, Kings Coughton
Update 01/10/2021 – Has recently been offering North Cotswolds Shagweaver as one of their beers.
Loxley
Fox at Loxley
Update 01/10/2021 – It was bought in late 2020 by the Community and is wholly owned by 223 shareholders from Loxley, the surrounding towns and villages and supporters from across the world. 21st May 2021. One of members recently reported that they quaffed a fine pint of North Cotswold Green Man IPA along with Hooky Bitter.
Newbold on Stour
White Hart, Newbold on Stour
Update 03/01/2022 – The tenancy of this pub is currently being advertised on the website "find my pub".
Update 01/10/2021 – The tenancy is currently being advertised for this pub although reports have reached the branch that a new Landlord is already in place
Redhill
Stag at Redhill
Update 01/10/2021 – Currently shows no sign of re-opening although it has been sold by its previous owners, Wadworth. The latest news on their Facebook page indicates that "we have decided to open up our rooms as B&B. Sadly the pub is still not ready to open but our rooms are refreshed and ready to let". There is no indication as to who has purchased the Stag and seemingly no obvious contact details.
Shipston
Horseshoe, Shipston
Update 03/01/2022 – All 7 pubs in Shipston are open for business and were serving 18 different cask beers between them over the recent holiday period. One of these 18 beers was the excellent Timothy Taylor Landlord served by the enterprising Landlord of the Horseshoe.
Update 01/10/2021 – The tenancy is currently being advertised for this pub although reports have reached the branch that a new Landlord is already in place.
Shottery
Bell, Shottery
Update 28/11/2021 - A "controversial" bid from the brewers and pub owners Greene King to transform the outdoor space at The Bell in Shottery has upset the residents of this village. A report can be found by in the following link - https://www.stratford-herald.com/news/controversial-pub-plans-set-for-approval-9226779/
St Andrew's Church, Shottery
St Andrew's Church, Shottery is holding a Beer festival on Friday October 14th and Saturday October 15th, with eight beers available. More details to follow.
Snitterfield
Snitterfield Arms, Snitterfield
Update 01/10/2021 – The tenancy is currently being advertised for this pub although it would now seem to be part of the Melt group pubs.
Stratford
The Bear, Stratford
Update 28/02/2022 – The good news is that the pub now seems to be open again but unfortunately the local beers, including the "house beer" from North Cotswolds, do not seem to be on offer. Currently on the pumps are T.T. Landlord, London Pride and St. Austell Tribute where our correspondent was rather shocked to be charged £5.40 for a pint. Is this the most expensive pint in the area or do you know otherwise?
Update 28/11/2021 – We understand from various sources that the Bear in Stratford appears to be open very infrequently at the moment due to limited staffing levels. We hope that this can be resolved quickly in the immediate future as it has left a number of disappointed drinkers who have found the pub to have been closed when they have visited.
Coach House (Lamplighter), Stratford
Update 01/10/2021 – has been refurbished and this Davenports pub has also had a name change. We have received positive reports regarding the beer quality with both the Original and Gold being currently available, both of which are unusual beers for the area.
Garrick, Stratford
Update 01/10/2021 – Have been taking North Cotswolds / Shakespeare Tempest and reports suggest that it has been selling well but as the beer was not currently being brewed they have moved to Falstaff's Folly which has also proved to be another popular option.
Old Thatch Tavern, Stratford
Update 28/02/2022 – A recent visit by a number of members to the Thatch proved to be quite frustrating as it was closed. Further inspection at the front of the pub revealed that the Thatch is currently shutting at 6pm on a Monday and Tuesday and 8pm on a Wednesday.
Paddock (Salmon Tail), Stratford
Update 01/10/2021 – Officially re-opened inside and out on May 16th. They spent a number of weeks transforming the pub ready for it to open as an Irish themed bar and changed the name to the Paddock. Real ale is available. Part of Melt group which now run the Bull in Old Town the Snitterfield Arms and the Keys (Catch 22?).
Phoenix (Union Bar), Stratford
Update 01/10/2021 – A little touch of London in Stratford upon Avon, the Phoenix is owned by local hospitality entrepreneurs Rachel & Sue Hawkins. The Phoenix is open all day every day for food, drinks, cocktails and wines. The Rosé Terrace is a place to grab a seat under the palm trees and pretend you're on holiday for an hour or a day. Regular cask ales are Hooky Gold and Old Hooky.
Stratford Alehouse, Stratford
Update 29/11/2021 - Current opening times are Monday / Tues. / Wednesday - 3.00 pm - 10.00 pm Thursday / Friday / Saturday - 1.00 pm - 11.00 pm and Sunday - 1.00 pm - 7.00 pm.
Yard of Ale, Stratford
Update 01/10/2021 – Reports have reached the branch that they have recently been ordering casks of North Cotswolds Shagweaver. We hope that this continues to be a successful option for beer drinkers at this pub.
Tredington
Lion (White Lion), Tredington
Update 03/01/2022 – Now has four handpumps serving North Cotswold, Purity, Hook Norton and Wye Valley beers when visited during late November. Please note that the pub is closed on Mondays otherwise opening times are 12-11.
Update 01/10/2021 – Following a full refurbishment, Fritz Ronneburg and wife Kelly of the Broom Tavern are hoping to reopen the Lion shortly. They also have bed and breakfast rooms and a holiday cottage on site. https://www.stratford-herald.com/news/warwickshire-pub-reopening-after-six-year-gap-9215661/
Wellesbourne
Stag, Wellesbourne
Update 28/02/2022 – A report from Warwickshire Police advises that their investigation, along with Warwickshire Fire and Rescue Service, has been completed and that the fire is no longer being treated as arson.
Update 01/11/2021 - It is with deep regret that we have to report yet another significant fire which has occurred in a pub within the branch area. The thatched roof of The Stag's Head pub in Wellesbourne caught fire in the early hours of the morning and fire crews arrived at the scene just after 1.30am. The fire was reported by several nearby residents just before 1am and seven fire engines, including one with a turntable ladder, were called to the scene: spending five hours extinguishing the blaze. The Grade II listed building had stood for 150 years and was a long-standing centre of community life in the village. Luckily, the people that live on site were actually away although one member of staff who was looking after the place was evacuated so thankfully no one was hurt. Subsequent reports state that Warwickshire police arrested a 30-year-old male from Wellesbourne shortly after 2am the same morning. A police spokesperson said: "That the suspect has been released under investigation while enquiries continue."
Wilmcote
Wilmcote Beer Festival
Update 15/04/2022 – Wilmcote Village Hall is the venue for the 2022 beer festival, over 17th, 18th and 19th June: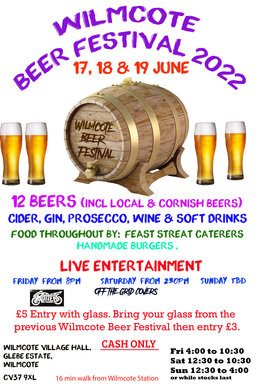 Wooten Wawen
Bull's Head, Wooten Wawen
Update 01/10/2021 – The tenancy is currently being advertised as under offer for this pub.