Special Awards
Tom Doggett - The Red Lion, Evesham
Tuesday 21st March 2023
The Red Lion in Evesham has been a public house since 1728, although there was prolonged closure from 1910 until reopening in 2014. The previous licensees retired in July 2022 and Shakespeare CAMRA was concerned over the future of such a historic pub.
Tom Doggett regularly played the Thursday jam sessions at the Red Lion and, as he was very keen on real ales, he was also concerned at the pub's future. He decided to take over the lease, with effect from 1st August 2022. Tom's added Butcombe beers to the North Cotswold offering and keeps the beer listing on the pub website up-to-date. Food might be served in the future, but for now Tom's happy you bring your own.
Tom organises regular events at the Red Lion, including regular live music, jam sessions and open mic nights. All events are listed on the pub website and Facebook page. There is a very good community feel to the pub, with regular community events: Tom hosted an event to champion women in brewing for International Women's Day on 8th March 2023, with Sarah from The Hop Shed and Sue from Celtic Marches sharing their experiences, along with Hentony Gin; on Sunday 26th March the Red Lion is joining Anti-Litter Evesham to litter pick streets/areas of Evesham Town Centre as part of the 'Great British Spring Clean'.
Shakespeare CAMRA wished to recognise Tom for his efforts and took great pleasure in presenting the Special Award of 'New Landlord Achievements' - the first such award made by Shakespeare CAMRA.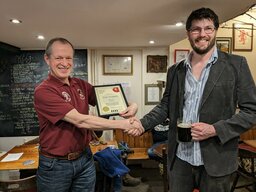 Pictured are Pete Godfrey, Good Beer Guide Submissions Coordinator, presenting the award to a delighted Tom Doggett in front of a packed pub.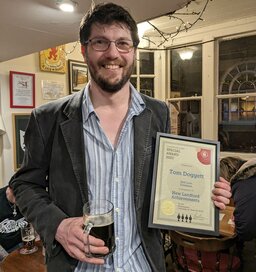 Tom thanked the staff at the Red Lion, their customers and suppliers, including Guy and Sandra Holiday from North Cotswold Brewery who attended the presentation.