Spring 2017 - Howard Arms, Ilmington
Wednesday 29 March 2017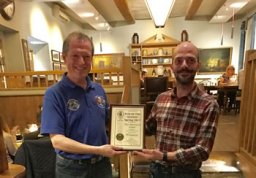 On 29th March 2017, a presentation to mark the award was made by Pete Godfrey, Shakespeare CAMRA Good Beer Guide and Pubs Officer.
The Howard Arms is a 400-year-old rambling golden Cotswold stone-built inn, located in the village green. It returned to local ownership in 2015 and has been sympathetically refurbished.
It is popular with local people who appreciate well-kept real ales – at the time of the presentation Purity Bunny Hop, Timothy Taylor's Landlord, Hook Norton Old Hooky and St Austell Proper Job were on offer, all served well.
The General Manager Robert Jeal was unavailable and the award was accepted on his behalf.